With the abundance of cases on the market, it can be difficult to find the best minimalist PC case for your gaming setup.
Adopting a minimalist lifestyle can be a drastic, yet rewarding change.
If you want to know how you can apply minimalism to gaming, check out the guide we have written detailing how you can adopt this type of lifestyle to improve your quality of life.
As a minimalist, you want to avoid cases that have a lot of crazy features going for them; like having rainbow RGB's for example.
When it comes to building your rig, it's important to choose a case that allows you to keep the interior of your PC as clean as possible.
That means spacing and cable management are key factors.
Having a clean PC can add to the clean and minimalist look to your battlestation setup as a whole.
You can use these minimalist gaming rooms as inspiration when building your next gaming rig.
And if you want to take it a step further, having no distracting RGB lights can help with keeping it minimal, and give you a sense of calm when you go to work or game on your setup.
In this article, we will discuss some of the best minimalist PC case designs, and how they will benefit your PC setup.
Let's dive in.
Best Overall
NZXT H510i
Great airflow design
Enhanced cable management
Aesthetically minimal
Budget Pick
AeroCool Cylon RGB
Enhanced ventilation design
Removable PSU dust filters
Budget-friendly
Editor's Choice
Fractal Design Define R5 PC Case
Very quiet
Tool-free SSD installation
Good ventilation
TL;DR: The 7 Best Minimalist PC Cases
---
Best Minimalist PC Case Overall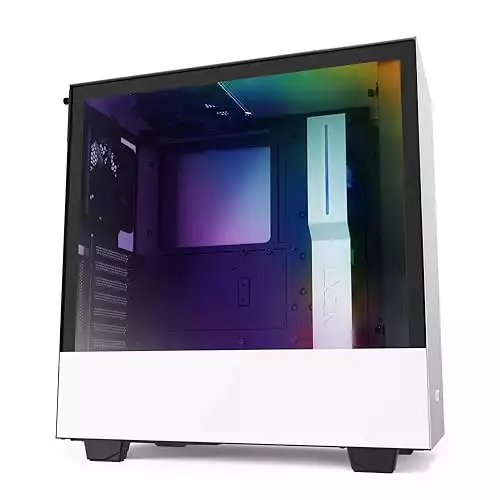 Pros
Smart Device V2 is a faster microprocessor
Vertical GPU mounting for greater airflow and design
Enhanced Cable management due to the routing kit
Multiple fan filters
RGB lightings for aesthetics
Has 7 expansion slots
Cons
The side glass panel is very delicate
To control the RGB lights you must install the NZXT cam software
The NZXT H510i offers various options and ports which allows for greater flexibility during setup.
It's a mid-tower ATX case that has a front I/O USB C-port to allow faster data transfer.
The vertical GPU mount allows for greater airflow and cooling.
The side glass panel only has one screw installation, while the tempered glass frame gives it an elegant outlook.
Along with 2 RGB lighting channels, there are 3 fan channels that support both regulated as well as PWM fans.
This improves the ventilation for the system and keeps your gig running smoothly.
Best Budget PC Case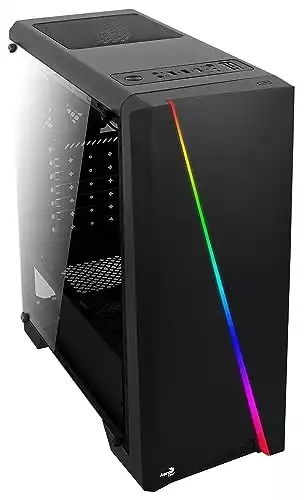 Pros
Support VGA fan bracket design
Has a slot for SD or micro memory cards
Dual chamber design for enhanced ventilation
Removable PSU dust filter
Includes USB 3.0 port and supports 240mm liquid cooling radiator
Cons
Lack of cable management features
The PSU/HDD bay is non-removable
The AeroCool is a Mid-tower with an integrated RGB acrylic side window.
It has front panel lighting and 13 different modes, including 6 that produce fluid light patterns for your viewing pleasure.
The liquid cooling system supports 240mm radiators while the 120mm fan on top will further enhance ventilation in your case!
This case is perfect for high-end PC builders as it has enough space to fit a powerful graphics card and has all the basic necessities that you would require but also features that a gamer would appreciate.
Most Quietest PC Case
Pros
High-density sound dampening material for silent computing
Support for water coolers
Slots for up to 3 fans
ModuVent fan slot covers to reduce fan noise
SSD mounts feature a new design requiring tool-free installation
8 different HDD cages which are also removable
Cons
The case is being discontinued so additional accessories may not be provided
The Fractal Design cabinet is perfect for those who desire to run their pc in silence.
It has a high-density noise-reducing material, making it ideal for sound absorption, and comes with water cooling support as well as extra SSD slots which can be handy if you require quick speed boosts.
You're also provided the option of having up to 8 HDD that are relocatable according to your preference or simply removing them all together when you need more space inside or want better airflow internally
It also includes 2 GP-14, 140mm fans for greater airflow while minimizing the noise levels.
A fan controller is also included in the front of the case that supports up to 3 fan installations.
It's clean, minimal, has no side panel, and will protect your PC components.
There's nothing flashy about the Fractal Design Define R5, it's sleek and it works.
Perfect for any minimalist.
Best Case For Airflow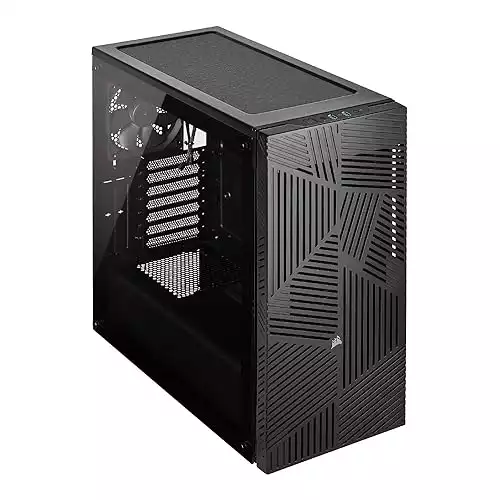 Pros
Best casing for airflow and ventilation
Room for 6 fans installation
Comes pre-equipped with 3, 120mm fans
Durable steel drive trays for drives
Has built-in cable routing
Cons
The tempered glass side panel is sensitive and may break if handled inappropriately
The Corsair 275R provides an elegant design with its slanted front panel which increases efficiency for system cooling by allowing greater airflow.
The angled ventilation pattern is a new kind of clean and modern styling for a minimalist pc case, plus the tempered glass side panels add to this sleek look while keeping your components safe from harm.
There's room in there for up to six fans or even multiple radiators!
This all-inclusive desktop computer chassis comes complete with three high-performance 120mm LED fans preinstalled - you can pop those suckers right into place without having any tools handy at all!
You'll also find that it has ample space inside so two hard drives and two solid-state storage devices have their own designated spots, as well as 2 additional 2.5 inches, mount.
If you want a case that looks great from afar, with a more futuristic look to it, the 275R is a great case to have.
Best For Full Tower Builds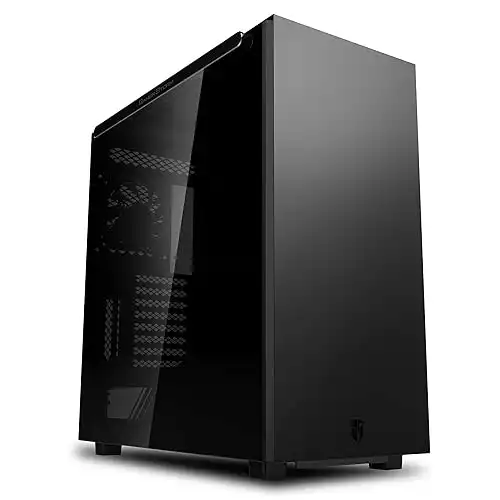 Pros
Includes a 120mm exhaust fan
Can install up to four fans as it has ample amount of space
Comes with pre-installed headers and screws
Convenient and elegant design
Cons
The dust filter is not magnetic or removable by hand
The glass panel is tinted which reduces internal visibility
The DeepCool MaCube 550 BK is a popular full tower case that accommodates ATX motherboards and also has an extensive 420mm high-end GPS.
The simple, minimalist design includes tempered glass on the side panel which offers both aesthetic appeals as well as protection for your PC components due to its robustness against scratches or other damages from knocks and falls.
The ventilation holes are situated in such a way so you can use them for either intake or exhaust purposes depending on whether it's oriented towards airflow inside of the computer or outside respectively.
This option keeps it versatile enough while being made out of SGCC steel - corrosion-resistant material with lasting endurance capabilities.
If you run a beast of a computer and want to have that minimalistic look in your setup, DeepCool's MaCube 550 BK is your ideal choice.
Best Case For A Compact Build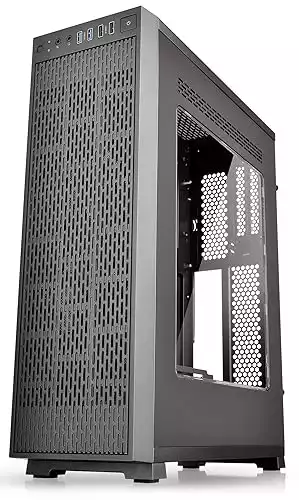 Pros
Compact and slim design
Includes GPU padded braces for the on the go traveling
Dual placement layout
Floating GPU design
Handy I/O port includes 2 3.0 USB port
Cons
The compact design reduces the internal spacing
Hard cable management
The Thermaltake Core G3 PC case has a slim design, compact, and easily adjustable anywhere. It can be placed vertically as well as horizontally with added flexibility to do so.
The HDD cage has space for 2 drives of 3.5 or 2.5 inches in size each while the GPU mount allows you to bring your graphics card upfront.
This allows you to create an aesthetical outlook on your PC case since its transparent side panel lets you see through from inside outwards at all times (so if there are any problems then they're always visible).
To get optimal airflow within this system two 120mm fans have been pre-installed but one more fan slot could also be used depending upon what kind of cooling needs exist in order to keep everything running smoothly during those long
So if you're looking for a case that's slim and gives you many different customization options, then this PC is perfect for any minimal setup.
Best To Keep Your PC Clean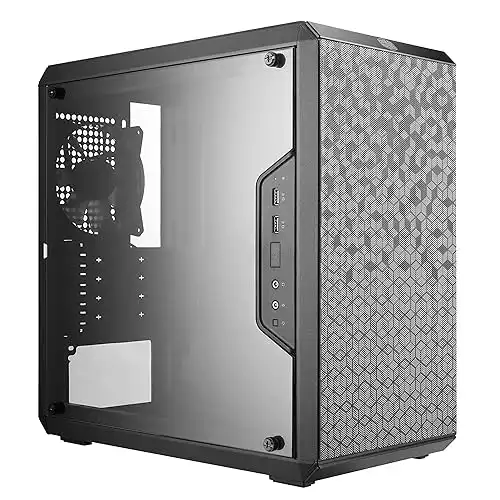 Pros
6 Orientation I/O panel
Includes a magnetic dust filter
Has ATX PSU support
The acrylic side panel goes edge to edge
28mm of open space for cable management
Cons
The magnetic filter reduces airflow in the system
Customer service is poor
The Cooler Master Masterbox Q300L has an adjustable I/O panel for 6 different locations.
It is a Micro ATX Tower case that can be positioned both horizontally and vertically and includes a transparent acrylic side panel that offers you a full view of the internal workings of your PC.
The front also features a magnetic design dust filter and extra space behind the motherboard allows cables to be managed more efficiently.
With this powerful cooling solution in place, all heat will dissipate through vents on top or backside when necessary - which means the system running at high speeds stay cool regardless of what's thrown its way!
Buyer's Guide: How To Find The Best Minimalist PC Case For Your Setup
Before you buy, ensure that you find how to right PC case for your setup.
Choose The Right Size To Fit Your PC Components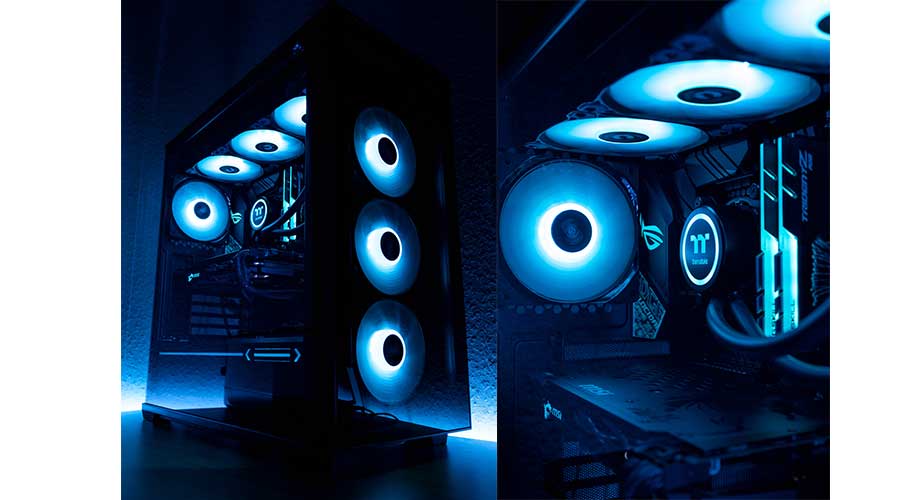 When you are selecting a minimalist PC case, it is important to understand the sizing of the individual components and how that fits your specific requirements.
Not all cases are the same.
They have varying designs, features, and sizes.
PC cases have 4 different types of sizes:
Small Form Factor - <14 inches
Mini Tower - 14 to 16 inches
Mid Tower - 17 to 21 inches
Full Tower - 22 to 27 inches
The size of the tower determines the number of drive trays it may have, or how many fan installations it can support, whether it has cable management features, easy water/liquid cooling management, and other cooling features which may be important for the PC that you intend to build.
How To Choose The Best Quality PC Case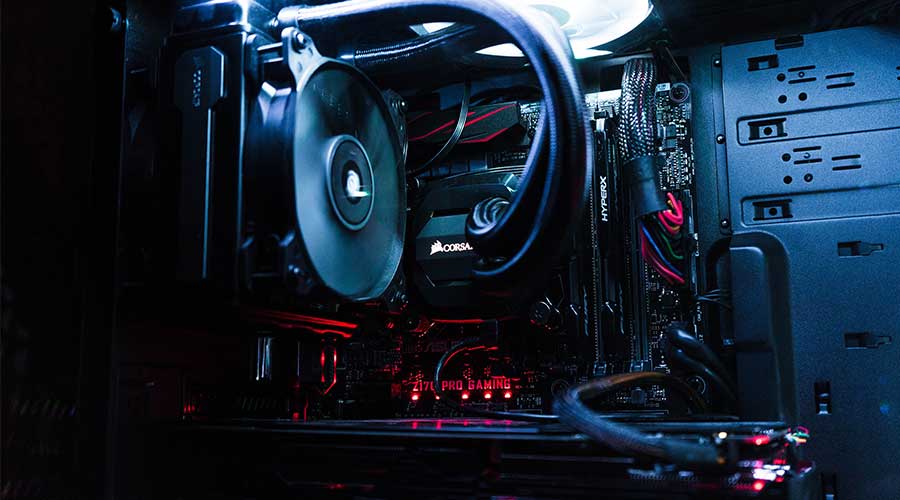 When it comes to finding the best quality cases, there are some key features you want to look out for.
Material
Minimalist pc cases utilize different types of materials.
While there is no perfect PC case material, SECC steel is definitely the most durable.
Steel cases can be very expensive, so if you're looking for a more affordable option acrylic or aluminum might work better in your budget!
Your PC will be on your desk for the indefinite future, so as long as it's not in a place that is prone to accidents or damage, then these cases should last you quite some time.
Side Panels
Varying side panels offer different designs and features.
Most cases however have a side panel with a tempered glass panel.
These are generally transparent but also come in different colors with different features.
Unless you have horrendous interior cable management or are planning to put RGB lightings in your PC Case then a tempered glass panel is the way to go.
Glass is superior to plastic side panels, they look cleaner and more minimal, and if cleaned properly can showcase the aesthetics of the interior of your PC.
Aesthetic Appeal
It's important to find a minimalist PC case that matches your setup. This includes finding the right color, choosing the size, and keeping it out of harm's way!
For most people, you can choose from black or white cases for minimalism but if you want some RGB flair there are plenty of options as well.
Just know that those might not be what someone considers "minimalist".
Allow For Proper Ventilation & Cleanliness
Having proper ventilation is important for any PC, regardless if you have a minimalist setup or not.
Air Flow
Airflow is an important factor to consider when building your PC case.
The overall ventilation of the system can often be the deciding factor in its performance and its overall life span.
The greater the airflow is of your system, the cooler it will remain to allow for optimal performance.
Ideally, you will want your computer running at the lowest temperature it can handle.
There are a variety of factors that affect internal PC temperatures, and sometimes it's inevitable for a PC component to run hot.
But you can drop the temperature by a few degrees by ensuring that you regularly clean your PC, and keep it dust-free with the use of...
Dust Filters
Dust filters do exactly what it sounds like.
As we are all well aware that enough dust can harm your system internally and it is often messy to clean up.
PC cases that come with dust filters tend to reduce this hassle and improve the quality of the build by protecting it from dust particles.
Just make sure to clean the dust filters every now and then as dust can clog up the filters, leading to a lack of air flowing outwards.
The importance of maintaining a clean PC cannot be stressed enough, just have a look at this video by Hardware Canucks seeing the difference in performance from before it was clean, to afterwards:
Pick A Case That Makes Cable Management Easy
If you are building your own PC case then no doubt you are aware of how annoying it can be to manage all the cables.
Especially if you have a PC case with a side panel, you don't want all the wiring inside to ruin the clean, minimalist look you can have with your PC having awesome cable management.
For this purpose, cable management is very important and it is best to select a PC Case that has enough space for you to use cable ties to make managing your cables.
Our Winner For Best Minimalist PC Case: NZXT H510i
From this list of best minimalist pc cases, selecting one that stood out was no easy choice but after having weighed the pros and cons of each PC case.
We believe that that the NZXT H510i is the perfect all-rounder minimalist PC case.
Best Minimalist PC Case Overall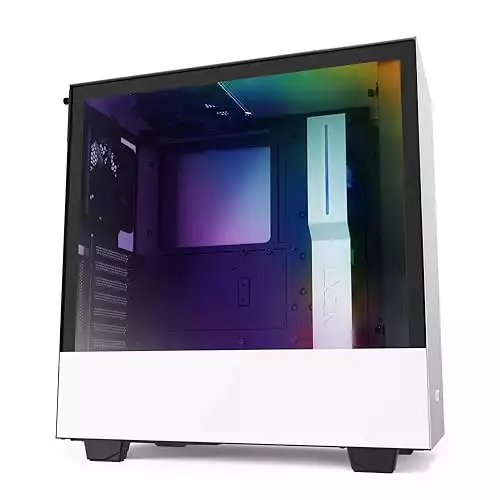 It has all the basic features that every other case provides and then some!
The single screw installation and smart device v2 are newly added features that other pc cases tend to lack.
Additionally, it's best for cable management as the casing includes a cable routing kit with pre-installed channels and straps.
Being a mid-tower case, it supports vertical GPU mounting and has a number of motherboards supports ranging from Mini-ITX, MicroATX to ATX.
This makes it the ideal choice for minimalist pc gamers.
You can easily purchase this case using our amazon link and relax easy knowing that you made the right choice!