What is the difference between a paracord cable, a bungee, or a wireless mouse?
When it comes to gaming mice, many people have different opinions.
Paracord cables are lightweight, flexible cables that have 0 drag when you move your mouse around.
A mouse bungee is a tool where you feed your gaming mouse's cord through its crevices to prevent your cord from ever getting tangled or caught somewhere on your desk.
Then comes wireless gaming mice, which use wireless technology so you don't have to deal with pesky cords at all.
They all have their differences, and one option may be better suited depending on your situation.
In this article, we will discuss the three different ways you can upgrade your mouse performance, and see which one is best for your gaming setup.
Let's dive in!
TL;DR: Quickly Determine Which Mouse Upgrade You Need
Paracord Cable: Paracord cables are soft, flexible, and lightweight cords that help with your mouse movements. It allows you to maneuver your mouse with ease, almost feeling wireless.
I would recommend a paracord cable if you don't mind doing tedious work like opening up your mouse and installing it and don't want to fork out a lot of money to buy a wireless mouse.
Mouse Bungee: A mouse bungee is a tool that sits at the top of your desk, where you feed your mouse cord so it never gets tangled or stuck between anything on your desk.
It also ensures that your cord glides smoothly so that you're always in control of your mouse.
A mouse bungee is recommended for more hardcore gamers, who need to ensure consistency with their mouse movements. It prevents your mouse from getting caught anywhere which is a bonus.
Wireless Gaming Mouse: If you don't want to deal with cables at all, then a wireless gaming mouse is your best option.
I would recommend getting the Logitech G Pro X Superlight as it's one of the best wireless gaming mice on the market.
Please note that buying a wireless mouse is the most expensive out of the three options.
The Pricing And Effort Differences
Regardless of which one you pick, you will have to buy an extra accessory or product.
Luckily paracord cables, mouse bungees, and wireless gaming mice all come at different price points.
($) Paracord Cables: $10 - $25
($$) Mouse Bungees: $10 - $50
($$$) Wireless Gaming Mice: $80 - $250
As you can see, the less effort you put into optimizing your gaming mouse, the more you may have to spend.
The time invested into setting up the following methods go as follows:
Paracord Cables: 10 minute - 2 hours (manual installation which means opening up your mouse installing it right)
Mouse Bungee: 5 minutes (+15 minutes for testing and adjustments)
Wireless Gaming Mice: 1 minute (usually plug and play)
Paracord Cable, Mouse Bungee, And Wireless Gaming Mice: What Are The Main Differences?
Paracord cables, mouse bungees, and wireless gaming mice are all different and may suit one gaming setup but not another.
So it's important to know exactly what each of them does.
Paracord Cables: What Are They?
If you're not a gaming setup junkie or are gaming mice enthusiastic, then chances are you've never heard of a paracord cable before.
Paracord cables are custom cables that replace your regular mouse cord.
They are lighter, softer, and have 0 drag when moving your mouse around.
You may think that switching out the cord won't make a difference, but it's one of those things you need to feel in person to really get the gist of it.
Usually, paracord cables are bought for the sake of customizing a gaming mouse - hence why gaming and mouse enthusiasts love to install them.
Similar to customizing or building your own keyboard from scratch, installing a paracord cable would scratch the same creative itch.
So if you are interested in DIY customizations on your gaming setup, then I would definitely recommend getting a paracord cable.
If you want to know the best places to get paracord cables, then check out our list of the best places to buy paracord cables.
Mouse Bungee: Do You Need One?
Mouse bungees act as a middle ground between paracord cables and wireless gaming mice.
These bungees sit at the top of your mouse pad and act as a pathway for your cable to ensure that your mouse cable runs smoothly.
The mouse bungees can cost between $10 - $50 depending on which one you get and are easier to set up in comparison to a paracord cable.
If you notice that your mouse gets stuck on your table a lot, or just want smoother mouse gliding, then getting a mouse bungee is your best bet.
Wireless Gaming Mice: Should You Upgrade?
Lastly, you have wireless gaming mice.
There's not much to explain here - they're your average gaming mice without the cord.
You don't need to take the time to open up your mouse, nor do you have to rely on another tool to give you sufficient mouse movement.
You simply plug in the USB adapter and play.
But, there's a cost to buying wireless gaming mice.
A cost in the form of a cost - you will need to fork out some money to have the luxury of having a wireless mouse.
In comparison to a paracord cable which is around $20, and a mouse bungee which is around $40, a wireless gaming mouse can cost upwards of $80+.
If we were to put it into perspective, a Razer Deathadder V2 costs roughly $55, whereas the Razer Deathadder V2 Pro (Wireless) costs about $129.99.
Another downside is that wireless gaming mice need to be constantly charged.
If your battery is on low, you will need to plug in your mouse to use it, which means you will essentially be using a wireless mouse anyway.
Alternatively, you can buy wireless charging technology called G PowerPlay which is made by Logitech.
Logitech G PowerPlay: Wireless Charging Technology For Select Few Wireless Gaming Mice
Powerplay is a wireless charging technology that comes in the form of a mousepad.
You use this charging mousepad to constantly charge your wireless Logitech gaming mouse, so essentially you will have an unlimited battery - forever.
The downside to this is that PowerPlay is limited to a select number of Logitech's gaming mice.
If your Logitech mouse isn't battery-powered, chances are it will be compatible with PowerPlay.
Ensure you check the compatibility before you buy one.
If you don't mind charging your mouse constantly and want the simplicity of going wireless, then I would recommend getting a wireless gaming mouse.
If you want the best gaming mouse on the market right now which includes Logitech's unlimited charging compatibility, here is the combination I recommend:
Alongside the: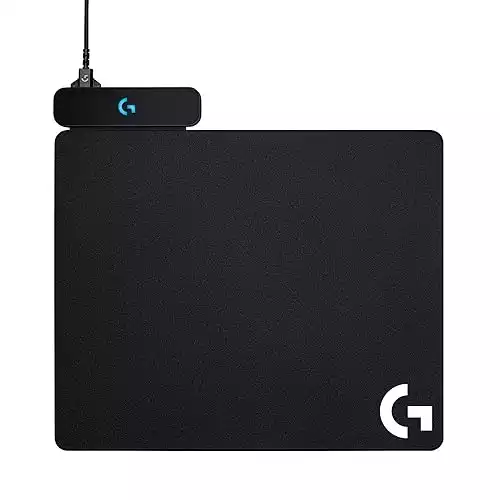 Frequently Asked Questions
Can I Combine A Paracord Cable With A Mouse Bungee?
Absolutely! If you love customization, chances are you are a neat freak who loves cable management too.
Having combined a paracord cable and a mouse bungee would be equivalent to the performance of a wireless gaming mouse (possibly even better).
Although it's rare, wireless gaming mice are prone to having interruptions that disrupt the connectivity between your PC and the mouse.
Although wireless gaming mice have about 1 - 2ms of latency, wired gaming mice have 0 latency - since it's a direct connection.
In most cases, it's also more affordable to buy a paracord cable and a mouse bungee, since high-performing wireless gaming mice can be very expensive.
So yes, if you would like to combine them, by all means - it's a perfect combination.
Can You Get A Paracord Cable With A Wireless Gaming Mouse?
Yes, you can, but I don't really see a point in doing so.
For example, imagine you got a Logitech G Pro X Superlight and bought a paracord cable (as a charger).
Although I see it would be superior to the regular stock charging cable, the Logitech G Pro X Superlight has 64 hours of battery life.
All you have to do is charge the mouse overnight while you're not using it every 2 - 3 days.
So while it may appeal to you to have a customized charging cable, it really just is an unnecessary expense.
But hey, if that's what you want to do - then go for it! If you have the funds to spare, then why not?
Can I Get All 3: A Paracord Cable On A Wireless Gaming Mouse, With A Bungee?
Yes, but it's definitely overkill if you do so.
Conclusion
By now you should be able to determine which upgrade to get on your gaming mouse, depending on your budget and the amount of effort you want to put into setting them up.
The least expensive but most time-consuming is definitely installing a paracord cable.
Whereas if you have the budget to do so, buying a wireless gaming mouse is the easiest way - you simply plug in the adapter into your PC, and away you go.
And if you're a hardcore gamer, then getting a mouse bungee to keep your mouse movements consistent is the best option for you.
They all have their perks and are best suited for certain individuals, so don't dismiss one or the other - and remember you can combine them all too.
If you ended up getting any of the three upgrades and have had great results from them, comment down below and let us know which one you have!
Happy gaming!