CS:GO is no doubt an extremely competitive game.
The best players in the world are always looking for an edge to use against their opponents and that includes testing new innovative gaming keyboards.
And it can be a difficult choice choosing the best keyboard for CS:GO, since there are many features to consider...
What mechanical switches should you choose?
Are linear switches better than tactile switches?
Is it better to have a full-sized layout vs. a more compressed layout?
All of these nuances would normally take you hours to research.
Luckily, we've done the hours of research for you, and have compressed it down so you can make your decision in a matter of minutes.
In this article, we will list what we think are the 7 of the best keyboards for CS:GO in 2021 right now.
No matter what play style you have, or your preferences, you should be able to find a quality keyboard for your specific setup.
Side note: these gaming mice pair up perfectly with the top gaming mice for CS:GO too.
Let's dive in!
Best Overall
Corsair K70 MK.2 RAPIDFIRE
Cherry MX Silver Speeds
TKL sized
Premium build quality
Runner Up
HyperX Alloy FPS Pro
Cherry MX Reds/Blues
Used by many CS-pros
Very responsive keys
Editor's Choice
XTRFY K4
Comes with custom keycaps
Responsive keys
Used by many pro-European players
[amalinkspro_table id="5291" new-window="on" nofollow="on" addtocart="off" /]
1. Corsair K70 MK.2 RAPIDFIRE Mechanical Gaming Keyboard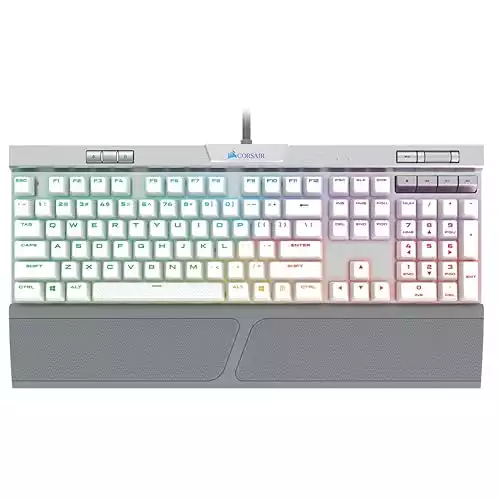 Check Prices
We earn a commission if you make a purchase, at no additional cost to you.
Pros
TKL size allows you to save a ton of space
RGB lighting which blends well with PBT double shot keycaps
Completely customizable with iCUE software
Cherry MX Silver Speeds which is extremely fast
Premium build quality
Cons
One of the more expensive keyboards on this list
The Corsair K70 RGB MK.II is the newest release in the line of best keyboards for CS:GO, and with a price tag that ranges from $170 - $200.
This is a premium keyboard that's on the more expensive end of the spectrum, but it's definitely worth the price.
Firstly, the Cherry MX Speed switches to ensure that your reflexes are going to be in top form.
Silver Speeds are amongst one of the fastest actuating switches on the market, build by the highly reputable Cherry MX company.
This keyboard also has a USB pass-through port, which means you can plug other devices into it without having to worry about unplugging anything else on your computer desk.
With the help of Corsair iCUE's software, you have full customization over your keys and RGB lighting.
What separates this keyboard from the rest is the superior build quality. The design is made for comfort, efficiency, and performance.
The detachable wrist rest is a gamechanger. Of course, you can get a wrist rest for any keyboard, but having it attached to your keyboard is far better.
The keyboard also comes in a Low Profile form, and a white/grey colorway should you want a keyboard that pops out.
Choosing the Corsair K70 MK.2 as your main mechanical gaming keyboard for CS:GO is highly recommended, and is our top choice.
2. HyperX Alloy FPS Pro Mechanical Gaming Keyboard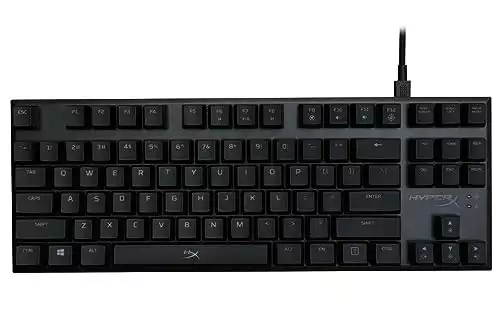 Check Prices
We earn a commission if you make a purchase, at no additional cost to you.
Pros
Nice, compact TKL size
Great red LED illumination
Includes high-quality Cherry MX reds
Extremely responsive keys
Detachable cable
Cons
Prone to getting dirty with dust
The HyperX Alloy FPS was specifically designed for competitive FPS gaming.
In fact, its predecessor - HyperX Alloy FPS (non-pro version) is the most used keyboard amongst the pro-CS:GO scene.
The only difference between is the size. The Alloy FPS being full-size whilst HyperX Alloy FPS Pro being TKL. We prefer the latter, as TKL saves space.
You can get this keyboard in Cherry MX Reds or Blues, with Red being a high-quality tactile switch that is extremely satisfying to press and actuates nicely.
What's great about this keyboard is that don't try to impress you with their aesthetics or features, and they focus on what really matters – performance.
The base is made from solid steel which makes it durable and includes a detachable cable, so it's convenient and easy to pack.
The keyboard does not include any RGB lighting, which can be both a pro and a con for you depending on your aesthetic preferences.
The keyboard only comes in Red LED which still looks nice when illuminated in the dark.
If you want a keyboard that is used by many pro-CS players, then this is the keyboard to choose from.
3. Logitech G Pro X Mechanical Gaming Keyboard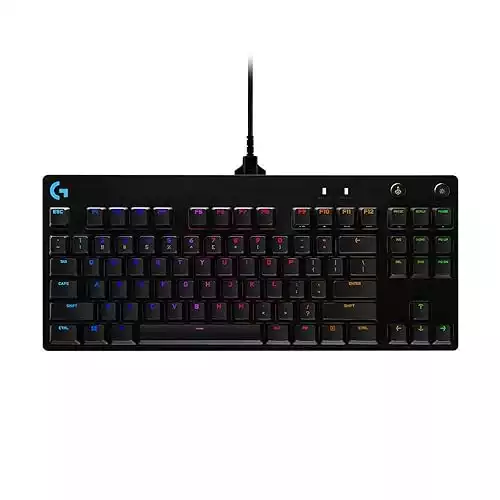 Check Prices
We earn a commission if you make a purchase, at no additional cost to you.
Pros
Compact TKL design
Includes a detachable cord
Great build quality
Designed for aesthetics and convenience
More of a quieter solution
Cons
Includes ABS keycaps which don't last as long as PBT
Logitech's G product line was made for performance, catered to professionals and competitive gamers alike.
In fact, it is used by many twitch streamers and pro players, like shroud, electronic (from NaVi), and device (from NiP).
The Logitech G Pro X can be used for both gaming as well as typing due to its compact TKL size which measures only 14 inches wide, perfect for gamers who want a lightweight keyboard that they can easily take with them anywhere.
It also features keycaps in laser-etched double shot ABS plastic construction meaning you'll never have to worry about wearing down your keys or losing their shine over time from heavy use.
The board has an anti-ghosting capability so nearly any keystroke combination will work without error no matter how fast it's pressed.
This making this board great for competitive FPS games where every millisecond matters.
It's compact (TKL-sized), the body is made from plastic, the overall board is very sturdy, and includes a detachable cable – everything you need to easily carry this bad boy around.
The lack of fancy features and a focus on performance tailored to competitive gamers make this keyboard an impressive budget-friendly option for gamers.
4. XTRFY K4 Retro Edition RGB Mechanical Gaming Keyboard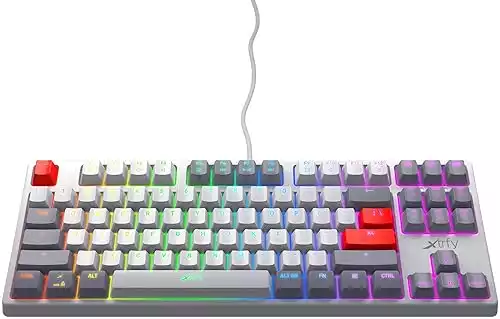 Check Prices
We earn a commission if you make a purchase, at no additional cost to you.
Pros
High-quality build
Comprehensive macro functions
Very responsive typing
Used by many pro-European CS players
Unique Retro look
Cons
Does not include software to accompany RGB lighting
XTRFY is not a well-known manufacturer… in the western world.
But if you follow NiP (Ninjas in Pyjamas) then you know that their team is stacked with this keyboard.
The XTRFY brand is popular amongst CS:GO pro scene, especially amongst the European teams, with many of their players using the XTRFY K2-RGB.
Now a couple of years have passed and the XTRFY K4 is the new standard for a quality gaming keyboard, surpassing its predecessor the K2.
XTRFY K-Series keyboards are all manufactured in China. This means that they're relatively cheap and offer a lot of bang for your buck at roughly $150.
The XTRFY K4 keyboard is full RGB with the ability to set up macros, customize LED lightning patterns, upgrade firmware, and many other features.
They use Kalih Red switches which have been praised as a satisfying, and responsive switch by gamers.
This means that you can play confidently knowing your actions will register without any delay, giving you an edge over your opponents!
The XTRFY K4 keyboard is on the list of best keyboards for CS:GO, as they have a great balance between quality and price.
If you want a keyboard used by many European CS:GO players, then this mechanical gaming keyboard is your next best choice!
5. Razer Huntsman TE Mechanical Gaming Keyboard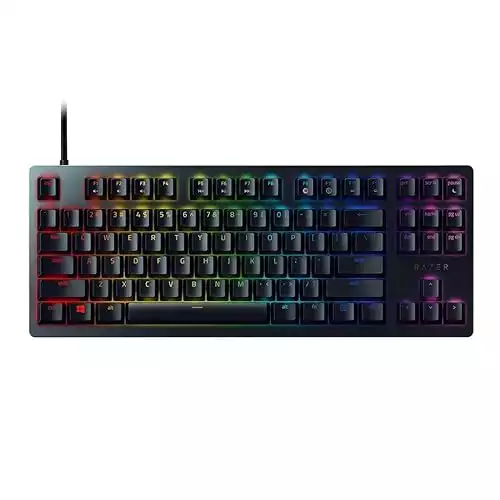 Check Prices
We earn a commission if you make a purchase, at no additional cost to you.
Pros
Quality is excellent
Great typing experience
Ability to be customized
Built for performance
Quality PBT keycaps
Cons
Includes a very low actuation point which may be too sensitive for some
Razer is a reputable gaming brand that has created many famous peripherals, like their DeathAdder gaming mouse and Blackwidow keyboard.
And their Razer Huntsman TE is another keyboard that reigns over many other gaming keyboards out there.
The Razer Huntsman TE (tournament edition) features their original linear optical switches which were designed for speed and performance.
Linear switches provide a responsive typing and gaming experience, meaning there's no middle bump when a key is pressed…
When you press the key it goes straight down, so the lightest touch can register the key, comparable to the famous Cherry MX Silver Speeds.
Having a super responsive switch like the Razer linear optical switches ensures that you have superior reaction timing when you're pressing keys while in-game.
The keyboard comes with Razer's Synapse 3 software that can be downloaded and be used to customize the RGB lighting and key functions.
The key features of this keyboard are the durability, portability, and fast-acting switches Razer provides.
With those 3 in mind, this makes it the perfect keyboard to bring to LAN tournaments and get quality performance every time.
6. Ducky One Mecha Mini 60% Mechanical Keyboard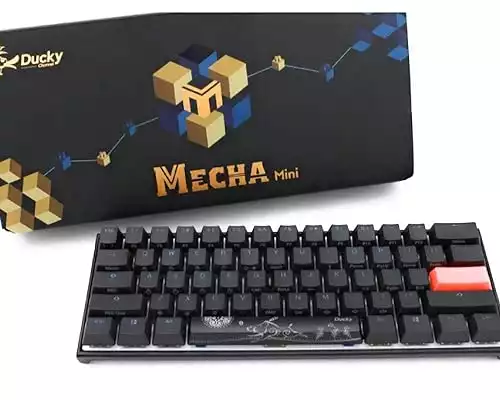 Check Prices
We earn a commission if you make a purchase, at no additional cost to you.
Pros
Awesome typing quality
Well-built design
Many customization options to suit your style
RGB backlighting
Compact 60% size
Comes with extra colored keycaps, themed spacebar, and wire keycap pullers
Cons
Built-in software can sometimes be confusing
No arrow keys may be inconvenient for some
The Ducky One 2 Mecha is a popular minimalist keyboard that features a unique style that makes it appealing to gamers who like to have a large amount of desk space.
The keyboard includes Cherry MX browns that is one of many MX tactile switches and a good one for gaming.
What separates Ducky One's mini keyboards from the rest is their emphasis on high-quality design and construction.
It would be rare to find a quality-built keyboard as good as Ducky One's 60% keyboards.
The keyboard allows for tons of lighting customization that you can manipulate using hotkeys featured in the instructions.
The keyboard includes many dual-functioning keys that you can see on the keycaps if you tilt the keyboard to see the bottom side of the keycaps.
The Ducky One Mecha Mini is a keyboard pick that isn't common, and that's exactly why we love it.
Although it's not specifically tailored to gaming, the build quality, mechanical switches, and additional features are really high-quality.
If you decide to own this 60% keyboard will have a grand time whether you are gaming or doing other activities on your PC.
7. SteelSeries Apex Pro TKL Mechanical Gaming Keyboard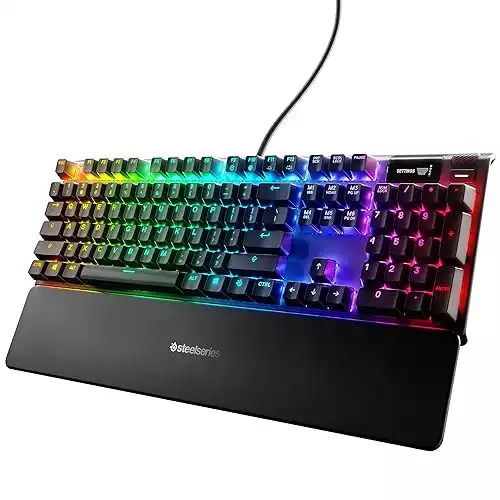 Check Prices
We earn a commission if you make a purchase, at no additional cost to you.
Pros
Compact TKL sizing
Adjustable switches with lower response times
Nifty additional features like their OLED Smart Display
Aesthetically pleasing to look at
Includes an attached wrist-rest
Cons
Switches aren't as high-quality as Cherry MX's or other notable switch designs
If you've been playing CS:GO for a while, then chances are you've come across SteelSeries and their high-quality peripherals.
SteelSeries has a long and prestigious track record, having built notable peripherals like their Rival and Sensei gaming mice.
The SteelSeries Apex Pro TKL is the latest edition to their Apex range and is another keyboard you can add to their list of impressive gaming peripherals.
It's a sleek black keyboard with RGB backlighting and includes OmniPoint Adjustable switches which allow you to change the actuation distance.
Do you need the ability to change the actuation distance of your switches? It's not necessary...
But the faster the actuation the better it is (for Gaming).
But if you enjoy having full customization over your peripherals, then this is a great feature to have.
You can even customize the keyboard further using their SteelSeries Engine software, playing around with the RGB and macro keys.
And by now you know we're big fans of attached wrist rests, you can use this keyboard for hours at a time and never get sore.
It also happens to be one of the most affordable keyboards on this list; coming in at $99 USD or less depending on where you buy it from.
You can't go wrong with this as your first pick if you're looking for quality without breaking the bank!
Buyer's Guide: How To Find The Perfect Keyboard For CS:GO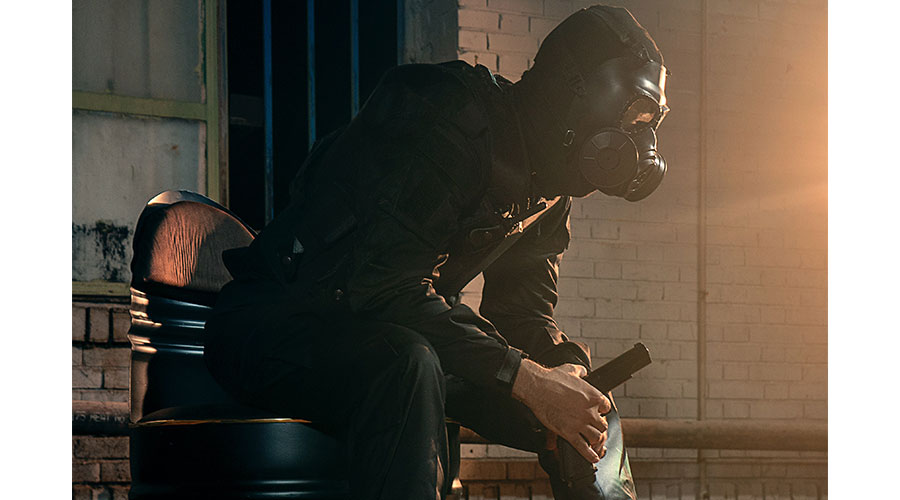 If we're talking about pros and twitch streamers, they all have one thing in common:
The majority, if not all of them have a mechanical keyboard for their superior mechanical switch technology.
TKL-sized or smaller keyboards are very common as they provide more desk space – especially room to move around your mouse.
Mechanical keyboards are superior to membrane keyboards because they can be customized to your personal preference.
This includes being able to pick and choose from the thousands of different mechanical switches available on the market.
When looking for a keyboard, you may want to opt for linear mechanical switches.
Linear switches are considered best as they:
Don't have a tactile bump (which means the key goes all the way down instead of having a bump in the middle)
They are close to silent (which is great for streaming)
They are easy to bottom out (basically to press – the lightest touch will register into your computer)
As included in our list, keyboards such as the HyperX Alloy FPS Pro or Razer Huntsman include linear switches built into them, with other keyboards having different variants of their keyboards to include linear switches.
The battle between what's better for FPS gaming – tactile switches vs linear switches is debatable.
It does come down to personal preference – but I'd give linear switches the slight edge since it's slightly more responsive and very sensitive to keypresses – perfect for jiggle peeking.
I'll explain linear switches in a little more detail below.
Choosing The Right Mechanical Switches
Mechanical keyboard switches are the most important factor when choosing a keyboard.
Switches are the engine to your keyboards – precisely because you will be pressing down on the keys thousands of times every single day.
Here are what mechanical switches do:
Switches determine the "feel" of how the keys are registered to your computer. There are two different types – 'tactile' switches and 'linear' switches. Tactile has a "bump" which you can feel which actuates the key – registering it once you go past the bump. Linear switches bottom out easy as there's no middle bump.
Tactile Switches Vs. Linear Switches
Again we come back to the debate between tactile switches vs. linear switches.
According to my research, linear switches are superior because:
Linear switches go straight down and you don't feel that middle "bump". The smoothness of the keystroke allows you to press the keys down faster as you would tactile keys.
One example of rapid movements being used on tactile keys is when you are jiggle peaking a corner. Pressing a key down for too long will reveal too much of your body which allows for more risk of getting shot.
Tactile switches have that middle bump that sends you feedback of when the key has been registered.
This is arguably better for typists as the middle bump helps with the feedback of when the key is pressed.
There are also clicky switches which are basically tactile switches but have a nice "clicking" sound when pressed down to the tactile bump.
This is more for those who want that satisfying "click" sound and feel when typing.
So, Which Mechanical Switches Should You Choose?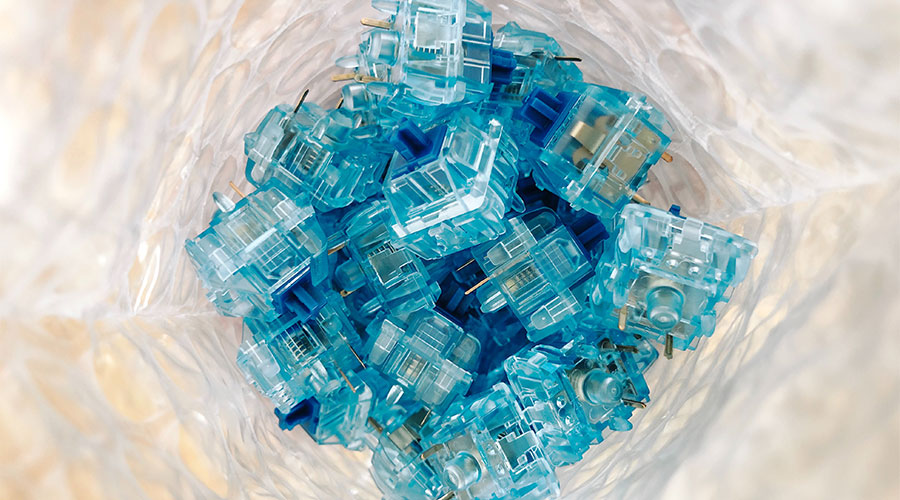 When it comes down to choosing a CS:GO keyboard, I would recommend opting for linear switches, preferably fast switches like Cherry MX Silver Speeds.
Although, there are many mechanical keyboards on the market, and many of you will be using the keyboard for more than just gaming.
So we have put together a list of quality mechanical switches that you can use for gaming in CS:GO:
Many of these switches you will see around amongst more well-known brands.
Other Factors To Consider When Choosing The Best Gaming Keyboard For CS:GO
Now that you know what switches to get, then you should look for the usual features...
Build Quality
Of course, you wouldn't want your keyboard to only last you a couple of months.
Gaming keyboards could potentially stay with you for years if they are built to be sturdy and are maintained correctly.
An aluminum or steel frame is more durable and sturdier than a plastic frame.
The keycaps should be double-shot PBT plastic, as they last much longer than ABS plastics.
The keyboard shouldn't have any flex to it, so if you travel with your keyboard in your backpack you know it will be able to take a beating.
Aesthetics
It's always a good feeling to game in style, so having a keyboard that compliments your gaming setup can give you that subtle boost of confidence.
We've all seen CS:GO pros and twitch streamers have crazy expensive gaming setups, and they're so satisfying to look at.
Most mechanical gaming keyboards are designed with serious gamers in mind, so most high-end keyboards will look great.
You can go a step further and customize them with custom keycaps, adding personality to your keyboard.
Full-Size Vs. Tenkeyless Or Smaller
TKL keyboards lack the extra Numpad and features on the right-hand side.
You can get it down to 60%, like what the Ducky One 2 Mini is, or even as small as 40%, the choice is yours.
For CS:GO, choosing between full-sized keyboards and TKL (or smaller) keyboards is all about personal preference.
Generally, most people don't use the extra Numpad, so getting rid of it won't affect your gaming, or tasks outside of gaming.
TKL or smaller also saves a ton of desk space, so if you only have a limited amount of room on your desk, TKL is the recommended option.
Wrist Rests: Do They Make A Difference?
A wrist rest on a keyboard no matter if it's attached or external (a 3rd party wrist rest that you place underneath) makes your typing and gaming experience comfortable.
Not having a wrist rest isn't a deal-breaker, but having had a wrist rest on my own, it feels a little weird to type on a keyboard without one.
Mainly a wrist rest helps elevate your palms when your typing, so it feels more natural and comfortable.
If you have the option to get a detachable wrist rest, I would highly recommend getting one.
Additionally, you can be an external wrist rest the same size as your keyboard and add it to the bottom.
The only downside to external rests is if you move your keyboard, you will need to adjust your wrist rest too. A small nuance, but can get annoying.
Frequently Asked Questions
What Keyboards Do CS:GO Pros Use?
There are many gaming keyboards out there, and the one most commonly used right now is the HyperX Alloy FPS (non-pro version).
Does Keyboard Matter For CS:GO?
The keyboard you use for CS:GO, or FPS gaming matters only to a certain extent.
That being the huge differences in quality between mechanical gaming keyboards vs. regular membrane keyboards.
If you have been using a regular (cheap) office keyboard to play CS:GO, your gameplay will definitely improve by upgrading to a mechanical gaming keyboard.
If you already have an existing gaming keyboard (membrane or mechanical), it won't matter as much, since they should be good enough for accurate actuations.
If you want the best of the best, get one of the keyboards in our top 7 list.
Why Do CS:GO Players Tilt Their Keyboard
This is quite an interesting phenomenon and the reason is because it's more comfortable and easier on the wrist.
It most likely habits from playing FPS games for a long period of time, and has stuck with them throughout.
Our Winner: The Best Keyboard For CS:GO In 2021
Our winner for the best mechanical keyboard for CS:GO has been decided by a factors such as:
Performance
Aesthetics
Size & Portability (For LAN's)
Build Quality & Durability
We believe that the Corsair K70 RGB MK.2 is the best keyboard for CS:GO and the one that you should add to your gaming gear.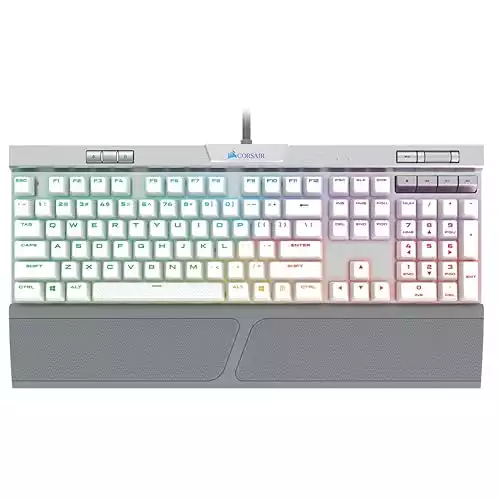 Check Prices
We earn a commission if you make a purchase, at no additional cost to you.
The keyboard includes our most recommended switches - Cherry MX Silver Speeds, a wrist rest so your hands never get tired, and a solid, and durable build quality.
It ticks all the boxes from performance, to portability (being TKL), to aesthetics - especially in the white colorway.
If you are looking for a pro keyboard with great lighting effects, that professional players use then get the Corsair K70 today!
And if you have any of the keyboards on this list, comment down below what your personal experiences were using these keyboards.