Are you a big fan of Razer's incredible line of gaming mice? Are you stuck between getting Razer's Mamba Vs DeathAdder?
I get it, many of my fellow gamers have been there, and the answer isn't so simple.
If you are looking for a gaming mouse, it is important to know what features each one offers in order to make the best decision.
In this article, we will be comparing these two products on several different aspects, including weight, dimensions, sensor type, buttons & scroll wheel type.
But that's just the tip of the iceberg. I can tell you now, it will come down to comfort and additional features.
Both the Razer Mamba Elite and the Razer DeathAdder Elite are high-quality gaming mice, and to choose between the two comes down to personal preference.
So enough talk, let's get into the nitty-gritty.
TL;DR: Razer Mamba Vs DeathAdder
Product
Grip Design
Grip Design
Ergonomic (Right Hand Only)
Ergonomic (Right-Hand Only)
Grip Style
Grip Style
Palm Grip / Claw Grip
Palm Grip / Claw Grip
Sensor
Sensor
Razer's Optical Sensor
Razer's Optical Sensor
Grip Hand Preference
Grip Hand Preference
Small - Medium
Medium - Large
Build Quality
Build Quality
Slight Rattle
Quiet
Price
The differences between Razer Mamba and Razer DeathAdder are very subtle.
Their performance is completely identical, as they use the same optical sensor.
So if one of your factors was dependant on how each mouse performs, you will want to take performance out of the equation.
What you will be betting on is the design and comfort, additional features (like RGB and additional macro buttons).
In my opinion, the Razer DeathAdder wins because it has a grip that just can't be matched.
The Razer DeathAdder is more famous thanks to its classic design and comfort and has been around for as long as I can remember.
It is ergonomic and has a classic, unique design that makes it extremely comfortable to use.
It is one of my favorite grips of all time, a mouse grip that suits claw grip or palm grip gamers that fits like a glove.
It's very simple, minimalistic, and aesthetic.
On the other hand, the Razer Mamba is far more aesthetic, includes one of the best RGB lightings on the market, and has more programmable buttons.
Due to these additional features, the Mamba Elite does cost more.
It does suit gamers with bigger hands who use a palm grip or claw grip.
For gaming, their both perform extremely well, and can both be used for everyday use too.
Both of the mice are suitable for you if you use a palm grip, whereas the DeathAdder is very comfortable for claw grips too.
Unfortunately, these gaming mice both have an ergonomic grip which is only suited for right-handed gamers (sorry, left-handed gamers).
Razer Mamba Elite Vs Razer DeathAdder Elite: In-Depth Comparisons
See below for a deeper dive between the Razer Mamba Elite Vs The Razer DeathAdder Elite.
Build Design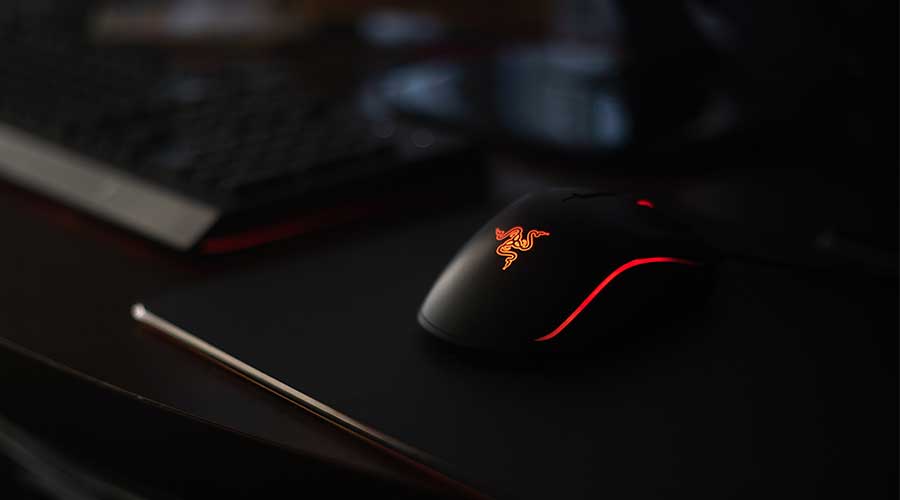 Razer Mamba Elite has a sleek matte black look.
It looks similar to DeathAdder Elite except for the RGB lighting strips.
There are 9 RGB zones in this mouse, which allows for a lot of customization.
The RGB lighting extends to the sides, on the wheel, and even the logo.
It weighs around 100g without the wire, which is pretty light.
Unlike other gaming mice, you can't customize the weight.
You can easily access the scroll wheel and the buttons.
I especially liked the latex material along the sides, which provides a good grip since my hands get sweaty easily.
The wired version of this mouse is not very portable, but it also comes in a wireless form.
So, if you travel a lot, you can opt for that.
The sides of this mouse are not very defined.
The hump of the mouse is more in the middle.
It is longer and wider, so gamers with large hands will like it better.
The Razer DeathAdder Elite has side edges that are curved and steep.
You may like it or not.
The weight of this mouse is 83g without the wire, which is roughly 17g lighter than the Mamba.
Although weight is subjective, most gamers are opting to go for a lighter mouse as it's easier to maneuver.
The buttons on the DeathAdder are thicker and more pronounced compared to the Mamba.
When you compare the dimensions of both mice, the DeathAdder is definitely smaller.
The difference is subtle, but that still shows in its weight.
Right-handed gamers with palm, claw grip can use this mouse.
The winner in this category for us is the DeathAdder.
Although it lacks in the RGB area, we still like the edges and curves of this mouse.
The Mamba has a modern design that some might like, but it is not for us.
Sensor And Buttons
Both of the mice use Razer's optical LED sensor which is one of the most accurate sensors on the market.
Optical sensors work best on pads and non-reflective surfaces, but unlike laser sensors, you can't use them on glass or bump surfaces (which you shouldn't be using anyway).
Only optical sensors are used in high-quality gaming mice as they are said to be more accurate than laser sensors.
The maximum DPI for the Mamba is 16,000, while with the DeathAdder, it is 20,000.
400 - 800 DPI is the recommended amount to have the greatest accuracy. So DPI won't really matter in the long run, and shouldn't be considered a superior feature.
The total number of buttons on the DeathAdder is 8, while on Mamba, it is 10.
The primary clicks on both are light and tactile.
The scroll wheels aren't that different either.
The Mamba Elite clicks horizontally and the DeathAdder Elite can be pushed to the left and right sides and act as additional buttons.
All of the buttons on both mice are programmable except for the profile switch button on Mamba.
On the top of both mice, you will find the DPI button, which lets you change the DPI in increments of 50.
The sensitivity and accuracy of both mice are pretty good.
When it comes down to it, the Razer Mamba Elite has more buttons than the DeathAdder Elite, whilst their performances are identical.
Comfort And Grip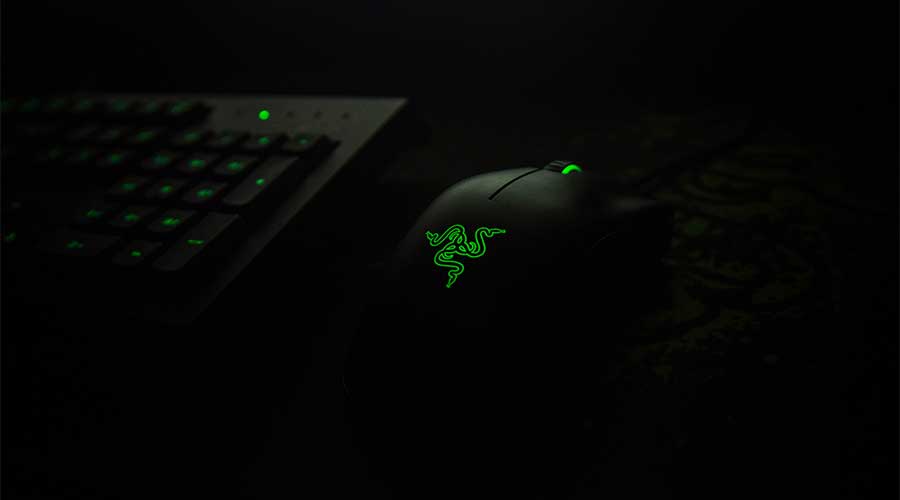 The Razer Mamba Elite might be many things, and comfortable is definitely one of them.
It has a long and low curve.
The hump is neither too high nor low.
Moreover, it doesn't strain your wrist or palm which makes it feel smooth to touch and sturdy.
But as we said before, it is big, so those with smaller hands might not be very comfortable with it initially.
Don't be fooled by its size, it may be big but it's not chunky. Nothing comes out from the sides.
The grip is a hit or miss for many people, but if you have larger hands it may suit you better.
On the other hand, the DeathAdder is lighter than the Mamba.
If you prefer a lighter mouse, then the DeathAdder wins, hands down.
It has slanted curves on the side, with a grippy texture on where the thumb and pinky are located.
These curves make it look aesthetically pleasing, but are useful as well and provides an extremely comfortable grip that feels like you have a ton of control over.
The DeathAdder Elite is smaller than Mamba Elite, which makes it perfect for claw grip and palm grip gamers with smaller hands.
In my opinion, the DeathAdder wins in terms of comfort and weight. However, it is a matter of personal preference.
The Mamba only has a 17g difference, and honestly, you will barely feel a difference.
It also has a different grip, so gamers with larger hands are more suited for the Razer Mamba Elite.
If you're unsure whether you would suit either, check out our mouse grip style guide. We have a table where you can quickly determine which size is best.
Build Quality
The overall build of DeathAdder is great.
You hear a rattle now and then when you shake it, but nothing stands out.
The shell of the mouse doesn't flex.
We were glad to notice that even when you slam the mouse, there are no accidental clicks.
Razer Mamba might look fragile on first look, but it is quite sturdy.
Its design doesn't compromise on build and material quality.
You will not hear any sound or rattle, no matter how much you shake it.
There is no clear winner when it comes to the build quality.
What I will say is that the Razer Mamba is quieter than DeathAdder, so the Mamba wins in that category.
Price
The Razer Mamba Elite is double the price of the DeathAdder, since it includes one of the best RGB on the market, alongside additional programmable buttons.
If you are the type of gamer who enjoys an aesthetic gaming setup and wants access to the additional buttons, then choose to opt for the Razer Mamba Elite.
Otherwise, save your money and go for the simpler Razer DeathAdder Elite.
Our Winner Between The Razer Mamba Elite Vs. The Razer DeathAdder Elite
If you go through all the features, you will see that the winner in most of those categories is DeathAdder.
It is lighter and has a classic grip that many gamers will love and continue to use in the future.
Although it doesn't include the incredible RGB display that the Mamba Elite has, it's a more simple and minimal approach to a gaming mouse.
This in turn allows the DeathAdder to be cheaper, which is a bonus.
Both of the mice are great for gamers with a palm grip with larger hands.
But, if you have smaller hands and use a claw grip, you are suited better for the DeathAdder Elite.
Gamers who prefer a smooth feel should go for Mamba.
As I stated earlier, it comes down to the comfort and additional features, since their performance is identical.
In my opinion, I would choose the Razer DeathAdder Elite. If you want a mouse that is extremely comfortable to use, is minimal, and relatively cheap, this is the best choice for you.
But if I wanted a more aesthetically pleasing gaming mouse, which has more programmable buttons, the Razer Mamba Elite will be there for the taking!
Let us know down below which mouse you have, and your personal opinion on them!