If you're a night owl who has a setup where you share with another person, chances are, a clicky keyboard is off the table.
The constant "click-clacks" from when you type may sound satisfying for you, but for others, it can be trouble.
Having moved to a co-working space myself, I needed to find a silent keyboard so I wouldn't annoy my roommate.
In this article, we researched and reviewed the 5 best silent keyboards so you can keep the sound to a minimum.
Let's dive in!
Best Overall
HyperX Alloy Core
Runner Up
Durgod Taurus K320
Editor's Choice
Logitech G513 Carbon
TL;DR: The 5 Best Silent Keyboards In 2022
HyperX Alloy Core RGB Silent Membrane Keyboard
Pros
Great value for money
No flex - solid construction build
Very quiet due to membrane keycaps
Nice touch with the braided cable
Very responsive touch
Cons
Not mechanical (this is a personal preference)
ABS keycaps (must be maintained with regular cleaning)
Not exactly the coolest looking keyboard on the market today or even the most technologically advanced options money can buy in 2021, the thing that separates this HyperX from the rest of the pack is its almost completely silent operation thanks to the proprietary membrane built running "under the hood".
Sure, this keyboard has RGB bells and whistles to draw in the gamer crowd (don't try lighting this thing up in a clustered office unless you want to have a bunch of distracting conversations later on).
But that's about as far as it goes when it comes to "creature features" – everything else is performance focused.
The membrane design produces a super quiet keystroke pattern you'll have to strain to hear even when you are sitting only a foot or two away. This thing is so quiet that you won't hear this keyboard working for the next desk over.
If even the faintest click clack from a keyboard drives you nuts this is where you'll want to spend your money.
Durgod Tauras K320 Silent Mechanical Keyboard
Check Prices
We earn a commission if you make a purchase, at no additional cost to you.
Pros
Aesthetic 90's retro style
Inexpensive compared to other well-known brands
Great entry-level keyboard
Quality Cherry MX switches (with multiple options)
Cons
Software is lacklustre and not user-friendly
LED lighting isn't the best
This is one of the best quiet keyboards of 2021 that won't break your bank account into tiny pieces while still giving you that mechanical feel and near silent operation you're looking for.
I know when I tried this mechanical keyboard I was a little bit skeptical that it would reduce keystroke sound as much as it did, but a lot of that was because it feels kind of cheap and feels kind of "chunky" compared to some of the other best silent keyboards I've used.
Don't let the cover of this keyboard for you the way that it for me, though.
Underneath that chunky plastic exterior are high quality Cherry MX switches (which a lot of techno-geeks considered to be the holy grail of keyboard switches) that are super comfortable, highly responsive, and run very quietly.
You can configure this keyboard a couple of different ways to improve sound dampening a little more, too.
Spring for the Silent Reds or the Silent Blacks and you'll lose a little bit of that responsiveness on the switches but gain a lot more sound dampening along the way.
Logitech G513 RGB Silent Mechanical Keyboard
Buy Now
We earn a commission if you make a purchase, at no additional cost to you.
Pros
Romer G switches are naturally quieter
Great travel response when actuated
High quality construction
Great RGB lighting
Built by a reputable brand
Cons
LED lighting is not the best
Software is buggy
This mechanical keyboard is a productivity machine, a super comfortable and very quiet keyboard that takes advantage of some of the best feeling switches in the industry without producing a lot of sound along the way.
Leveraging Romer G switches (which a lot of keyboard purists compare favorably to the universally beloved Cherry MX switches), it's not hard to be impressed by just how quiet the switches are compared to a traditional mechanical keyboard.
That constant mechanical click clack that your traditional mechanical keyboard offers is muffled significantly with these new switches.
Combine that with a really solid travel that is highly responsive, with each key having just the right amount of "give" on each keystroke – but still rebounding quickly for speed typing purposes – and it's easy to see why this Logitech quiet keyboard is so popular.
Built out of high quality construction materials (par for the course when it comes to Logitech components) some people will like the customizable RGB lighting system that others will really care about – but everyone is going to be impressed with its performance and noise reduction capabilities.
Logitech K740 Illuminated Ultrathin  Silent Membrane Keyboard
Check Prices
We earn a commission if you make a purchase, at no additional cost to you.
Pros
Ultrathin, ultralight, ultra good
Travel distance of 2mm on each key
Sleek and classy design
Great overall construction quality
Includes adjustable backlighting
Cons
Scissor switches tend to be more fragile and prone to getting damaged easier
I mentioned earlier that the trouble superthin keyboards have with muffling sound is that there isn't enough space in the design to hide insulating components to "swallow up" each keystroke.
A lot of companies try innovative ways to get around that problem, usually by wrapping their switches with a super thick membrane that kills the comfort level of each keystroke while increasing key travel distance.
This all slows down your productivity and usually only does a halfway job of killing keystroke sound to begin with.
The folks at Logitech have found a way to produce something really special, blending that membrane style with a unique engineering and design approach that has resulted in one of the quietest ultrathin keyboards money can buy in 2021.
This keyboard isn't quite as quiet as the others we highlighted above (because of its ultrathin properties), but if space-saving considerations are high on your list of important things to look for this is a great keyboard to research a little closer.
Realforce R2 PFU Limited Edition Silent Mechanical Keyboard
Check Prices
We earn a commission if you make a purchase, at no additional cost to you.
Pros
Aesthetic 90's retro design
Almost silent Topre switches
Satisfying typing feel
Includes a rubber mat for a quieter solution
You won't hear the clacks if you wear headphones
Cons
Frame is not the most durable - made with plastic
This silent keyboard feels like a perfect marriage of 1990s your hardware design with 2020s technological advances, resulting in a cool (but a little wacky) keyboard that looks pretty vintage but performs better than most any other keyboard out there.
Running nearly silent thanks to the Topre switches underneath each individual key, the feedback and responsiveness of this premium keyboard feels fantastic.
Travel is low, rebound is fast, and the noise of each keystroke is significantly reduced to the faintest whisper.
If you have headphones in (even without any music playing) you might not hear each individual keystroke at all.
Even more impressive than that, though, is that you can silence things even more by slipping one of the included silencing rubber mats beneath the keyboard plates to quiet things down a little more.
Buyer's Guide: How To Choose The Best Silent Keyboard Features
With so many different keyboards out there to pick and choose from (with more new models hitting the market every day), sifting through your choices can feel like a real chore.
But that's why I handled the bulk of the heavy lifting for you, checking out and reviewing as many of the best silent keyboard options available as I could find – breaking them down in depth below.
We get into the meat and potatoes of the different brands and keyboard models you should have a closer look at, it's important to zero in on some of the factors that make one piece of hardware one of the best quiet keyboards available and another an absolute mess that should be avoided whenever possible.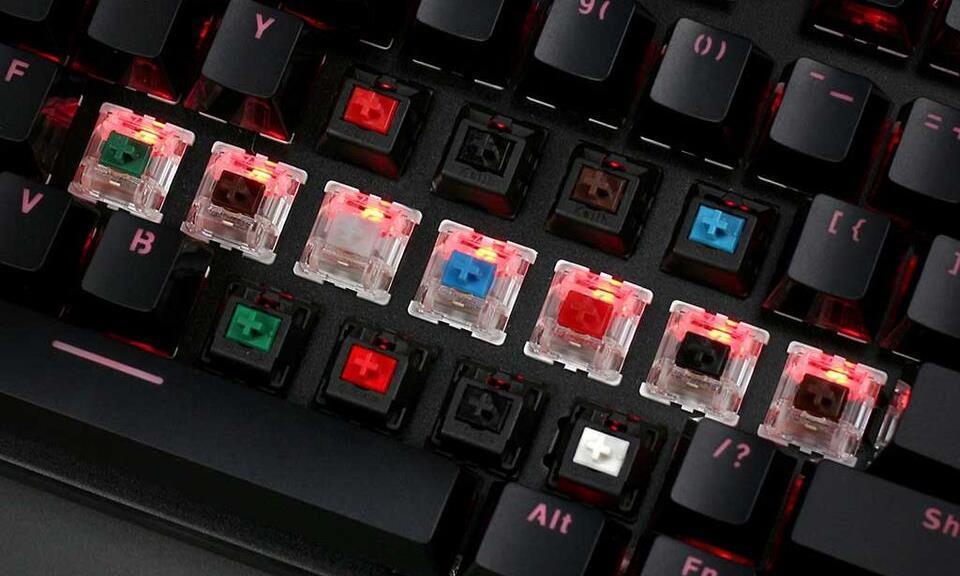 Switches
Straight out of the gate you're going to want to hunt down quiet keyboards that have the highest quality switches available.
The keys on each individual keyboard are attached by switches – and it's actually the switches themselves that are the biggest culprit when it comes to noisy keyboards.
Each company (for the most part) makes their own switches with their own unique design, changing the way that the keyboard feels when you type, the travel distance of each individual key, and (obviously) the noise it makes or doesn't make when you use it.
Mechanical switches (beloved by gamers and power keyboard users – writers and programmers especially) feel fantastic, highly responsive, and have a sharp "click" kind of noise when they are engaged.
Membrane/dome switches are little more commonplace, generally pretty quiet, and have a somewhat sloppy feel compared to mechanical switches.
Scissor switches are a bit of a hybrid between membrane and mechanical switches, providing a super responsive and quiet keystroke but can be a little bit difficult to find because they are still so relatively new.
If you're going for pure performance, it's tough to beat a mechanical switch. But if you want the best silent keyboard you want to focus on a scissor switch whenever possible – or at least a mechanical switch that can be "muffled".
If you want a more in-depth breakdown on mechanical switches, check out our guide to choosing the best mechanical switches.
Form Factor (Keyboard Size)
The form factor of your new keyboard is something you want to figure out, too.
Not necessarily because of its impact on noise (though slim keyboards usually have less noise insulating properties than thicker keyboards) but because you want something that fits comfortably on your desk or workspace – something you can use without having to contort into shapes every time you need to use your keyboard.
Not everybody has a mountain of free real estate available on their desk to work with. Consider TKL (75%) or 60% quiet keyboards if you don't have room for a full number pad, for example.
Connectivity
Lastly, you'll want to find keyboards that offer the right connectivity technology.
Most every wired keyboard takes advantage of USB connectivity (some running USB C connections, though these are rarer and more modern), but a lot of great quiet keyboards today leverage Bluetooth or wireless connections, too.
A wired keyboard is going to work straight out of the box whereas a wireless keyboard will need to be recharged every now and again or be powered by a battery.
Again, this really isn't going to contribute all that much to the sound your keyboard makes when you are using it but it is still something that you'll want to get a handle on before you pull the trigger on a purchase.
Get those three things squared away and you'll be ready to hit the ground running.
Let's dig into the best silent keyboards money can buy in 2021 right now!
Frequently Asked Questions
Below are frequently asked questions about quiet keyboards.
Who Makes the Best Quiet Keyboards Today?
Believe it or not, none of the top brands out there today make the absolute quietest keyboards money can buy 2021 – and that includes companies like Logitech, HyperX, RealForce, or Durgod.
No, the best silent keyboard manufactured today is actually YOU!
A lot of people are unaware of the fact that they can buy all of the components they want to build a keyboard for themselves online today, picking and choosing specific components to maximize performance and silent operation in a way that other manufacturers might not have come up with yet.
If you don't want to go the DIY route, though, you want to look at manufacturers that use membrane keyboards, rubber dome switches, or have others sound insulating properties like the five best silent keyboards highlighted above.
What Keyboard Switches Make the Least Sound?
"Raw" mechanical switches are always pretty loud.
Some people like the mechanical click and clack they make with every keystroke, preferring it to the membrane switches that sound a little muffled. There's something to be said about the sound a finely tuned mechanical switch like "raw" Cherry MXs make.
But if you're looking to quiet your keyboard down significantly you want to go with membrane covered switches for sure.
This rubberized kind of material lessons the physical impact of each switch on other mechanical components, quiet things down significantly, and works to swallow up any sound that is produced along the way.
How Can I Make My Keyboard Quieter?
There are two different approaches you can take to quieting down your keyboard:
The first is switching out your mechanical switches for those membrane switches mentioned a moment ago.
The second is lubing up switches every now and again.
This will lubricate the action, smooth out each keystroke, and speed things up a little bit all at the same time – all while minimizing friction (which should extend the life of your keyboard bit, too).
Just be sure that you use a lubricating element designed for keyboards. You don't want to gum things up with the wrong lube.
Our Winner For The Best Silent Keyboard
At the end of the day, the HyperX Alloy Core RGB silent keyboard ended up being my favorite quiet keyboard of 2021.
I really liked both of the options from Logitech as well, but at the end of the day this keyboard was almost totally silent when configured with the "Silent Membrane" switches you can get straight from HyperX.
Some of the other keyboards had cooler features, a cleaner design, and a couple of them even felt a little better when I was touch typing with them.
But when it came down to near silent operation – which was hugely important to me – this was the only one that really killed all keystroke sound completely.
This is far and away one of the best silent keyboards money can buy right now.